Regular License
This is the license you (Envato's Author) need to use Envato Castle in your own website only, In other words, You MUST NOT generate or integrate Envato Castle (Client) Plugin in your WordPress project.
Extended License
Extended License allows the use of the item in one single website.
An Extended license allows you, with the permission from Oxibug, to generate and integrate Envato Castle (Client) Plugin into your WordPress Project (Theme or Plugin) to sell on the marketplace or on your own website. But you MUST Apply for In-Stock License before just for some Envato Rules (Read Below).
In-Stock License
On 22nd of January, 2013, Envato updated their licenses and it is no longer possible to use items from marketplaces within your own items that will be for sale on Envato marketplaces, without a partnership agreement between two authors. In this case between me (Hady Shaltout) and you (Envato's Author).
So, The good news are that we can still work together and make the internet better place. Login to our support portal where you can transform your "Extended License" to the "In Stock" usage license. Good luck!
How to Get In-Stock License?
Head over to the Envato Castle plugin in CodeCanyon and obtain an "Extended License".
Login to our Support Portal and Authenticate your buyer account using the green button (Envato Client?) or from the logged-in users admin bar at the top and follow the Authentication process.
After authentication done, Click on Verify My Licenses link in the summary box or reload the page and from the Envato Client? menu item in the admin bar click on Verify My Licenses and follow the steps.
After verification licenses process done, Scroll down to the Envato Castle item box and from your license box toggle the box Transform License into In-Stock License.
Read Carefully all notes available (because the modification of these information is very complicated and it'll take time) then enter your data and click on Send button.
You'll receive an email of the partnership between me and you, And you have to include it into your project.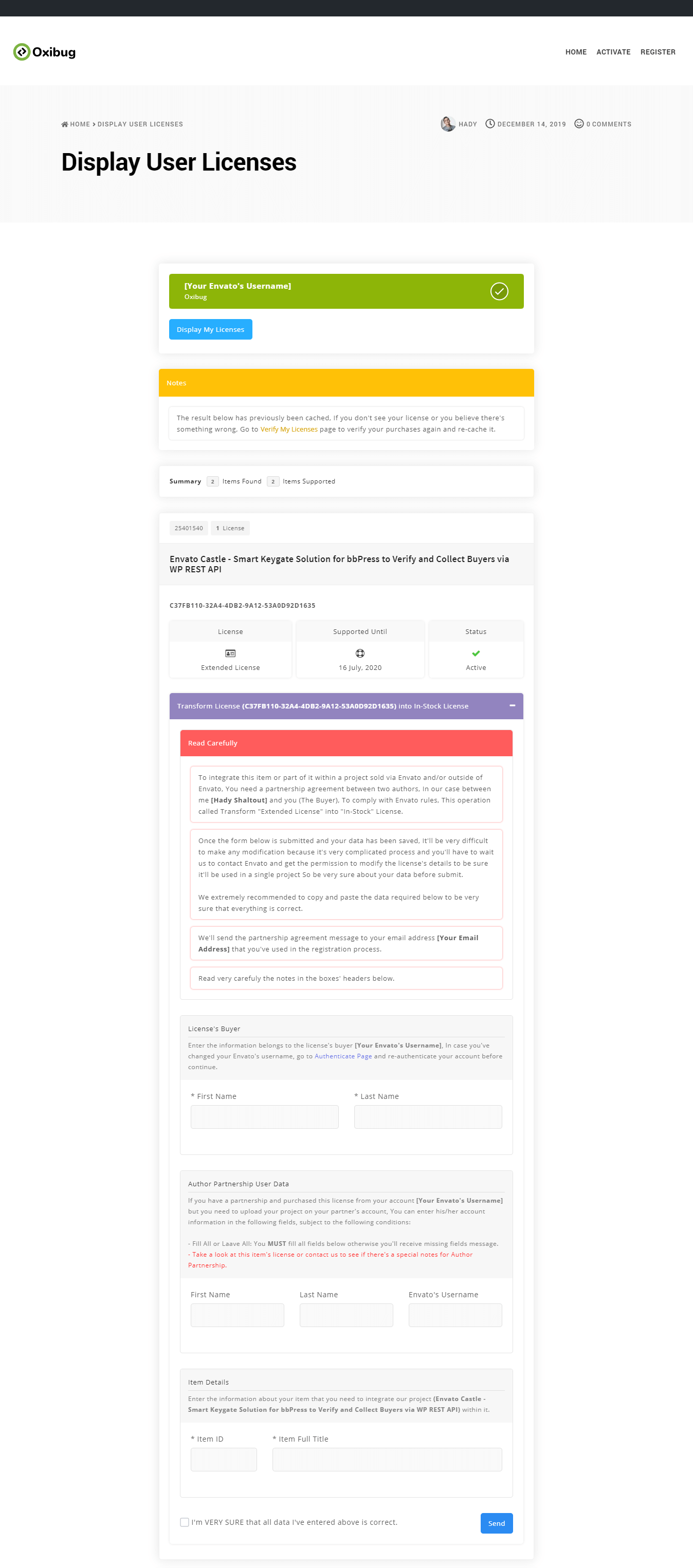 7. And here's an example of the email you'll receive